_I love puppets. They are a useful tool to help students as they learn through play and who doesn't like to learn that way? Students can either use the puppets in my collection or we can arrange for them to make their own during a holiday workshop or during lessons as an ice breaker activity. Below are some ideas of the puppets my students and I have made in the past.


_Meet Booboo. He was designed to be made during a 2 day workshop.

This puppet is made over two days and is recommended for children over ten years old. It involves basic needle and thread sewing but is very easy. The clothes are sewn by me once the child has chosen their fabrics from the selection provided. Although the same pattern is used for the face, body and the clothes, the puppets are identifiably individual due to the artistic choices made by the students. The clown string puppet is very easy to manoeuvre. If the idea of sewing is too much then you can use old clothes from a second hand shop or ones that your child has grown out of.
_
Other puppets made by me and some of my students. There are string, glove and stick puppets. The students designed and created their own puppets and they wrote and performed their own plays.


My Puppet Theatre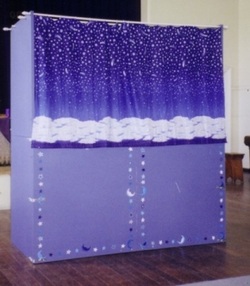 _This is the theatre that I designed and my father built for use with the puppets. This is now available to any of my students who wish to work with puppets. It can also be hired by schools if they wish to use it and the puppets that I have in my collection. It is 200cm tall and 180cm wide but it was designed to fold up and fit in the back of my car. It fits 4 students very comfortably in it and there a some backdrops that can be used: white wall with window and curtain; 2 mountains and a river; a forest; a cityscape; and the moon.

I also have 2 small theatres: one that sits on a table and another small one that stands on its own. They are both for solo puppet use.


---
_As well as working with puppets, I offer workshops that look at different areas of film and theatre. These can be done at my house or in a different location depending on the number of people interested. Costs vary depending on length of workshop and equipment required. Contact me to organise something.
_Directing
_What is the role of a director?
What to look for in auditions?
How to set up the rehearsal schedule
Ideas for directing the action.


_Stage Management
What is the role of a stage manager?
How to keep track of props and actors' entrances etc.


_Costume Design
_(This can be orientated towards clothing design if you wish)
Designs for yourself and others,
How to work with directors to design costumes for the characters,
Bring a costume design to life through making or buying pieces,
Finding inspiration,
Short-cuts and basic desgn techniques so that those with little drawing experience or confidence can create their own original costumes.
The design process:
1. Sketch of basic idea;
2. Drawing showing colours and labelling;
3. The finished product.
(For the inspiration behind my design ask me and I can email or show you the pictures as they can not be reproduced here due to copyright).


_Make-up Design
_Design and apply make-up for stage and screen, (different characters, ages etc, and have photos taken for your future reference)
All equipment is provided but head bands are suggested to keep back your hair. Wigs are provided and may be brought to complete a character.
Face painting may also be looked at and experimented with.


_Set Design
_What to take in to account when designing/constructing a set.
Making models etc.